(ABC)– Mandy Holverson wears a size 22. She said she never imagined herself ever wearing a bikini.
The body confidence movement led by models like Ashley Graham and Tess Holiday and clothing companies like Lane Bryant, however, has given her a new perspective on what is beautiful.
"I feel like I've changed a lot," the 28-year-old Houston, Tex., resident told ABC News of the impact of seeing women her size on billboards, in magazines and on the runway.
For Holverson, a diagnosis of polycystic ovarian syndrome, or an imbalance of female hormones, in middle school contributed to her weight gain, which she says led to depression.
Though Holverson has moved on from her darkest days, she still had one body-related fear she could not conquer: the bikini.
In order to overcome that fear, Holverson decided to go all out, agreeing to let model Ashley Graham help her find the perfect bikini, with "Good Morning America" cameras recording it all.
"I was in this shell for so long and I don't want to do that anymore," she told ABC News. "I thought, if I could get in a bikini then the weight would be off my shoulders. Finally."
Here is Holverson's journey from Houston to bikini shopping in New York City, in her own words.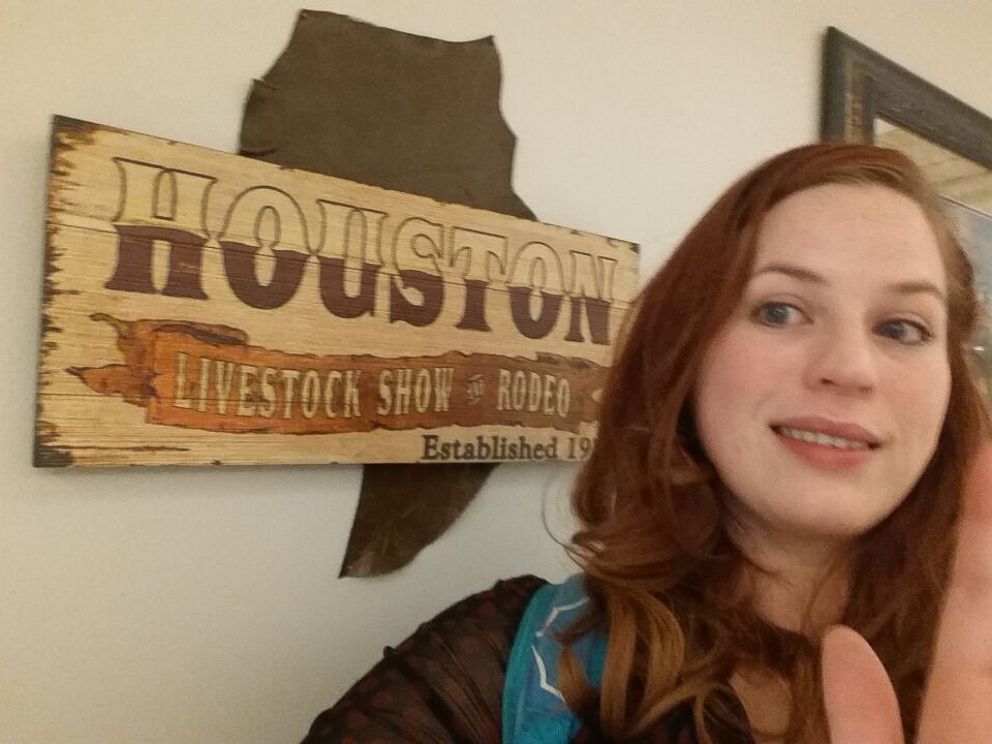 Update 1: The day is finally here. I am headed to New York!! My tummy is full of butterflies. Did I really agree to wear a bikini on TV? I am super excited but I also have a ton of anxiety about this. What are people going to think about me!? Did I make the right decision? It has been so long that I wished I could wear a bikini like everyone else. As a teenager I just wanted to fit in with everyone else too. No one wants to be the different one. The past 15 years or so I had just completely given up on ever wearing any kind of bikini ever.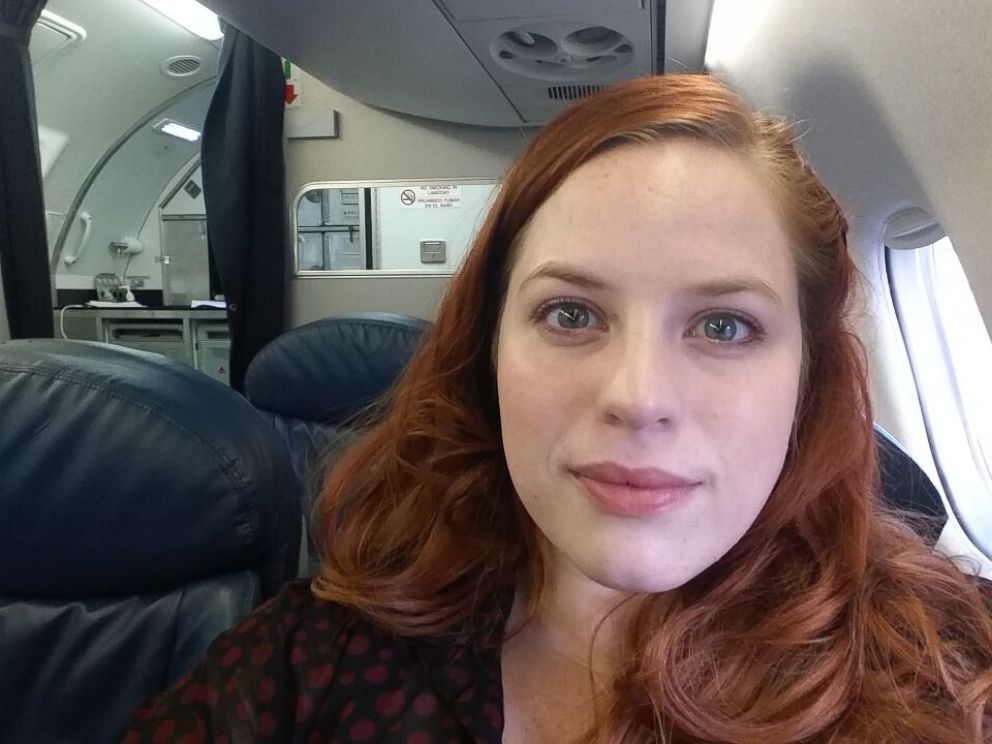 In the past 15 years I wanted to wear a bikini and look good for everyone else, now I just want to wear one and feel good for me! I am also so worried about making it to the airport in time. Am I going to have to ask for a seat belt extender on the plane? Will I fit in the seat? Will the person sitting next to me be offended if I infringe on their space? Will the airline make me buy two seat?s Did I pack everything I need? Being a larger person just adds so much more stress to the normal travel issues people have. It stinks because many of the issues could be lessened if I didn't know how judgmental society is. AHHH everything is so hectic right now!
Update 2: My hotel is very nice and I have an amazing view of Times Square from my window! Can't wait for my husband to get here so we can explore the city!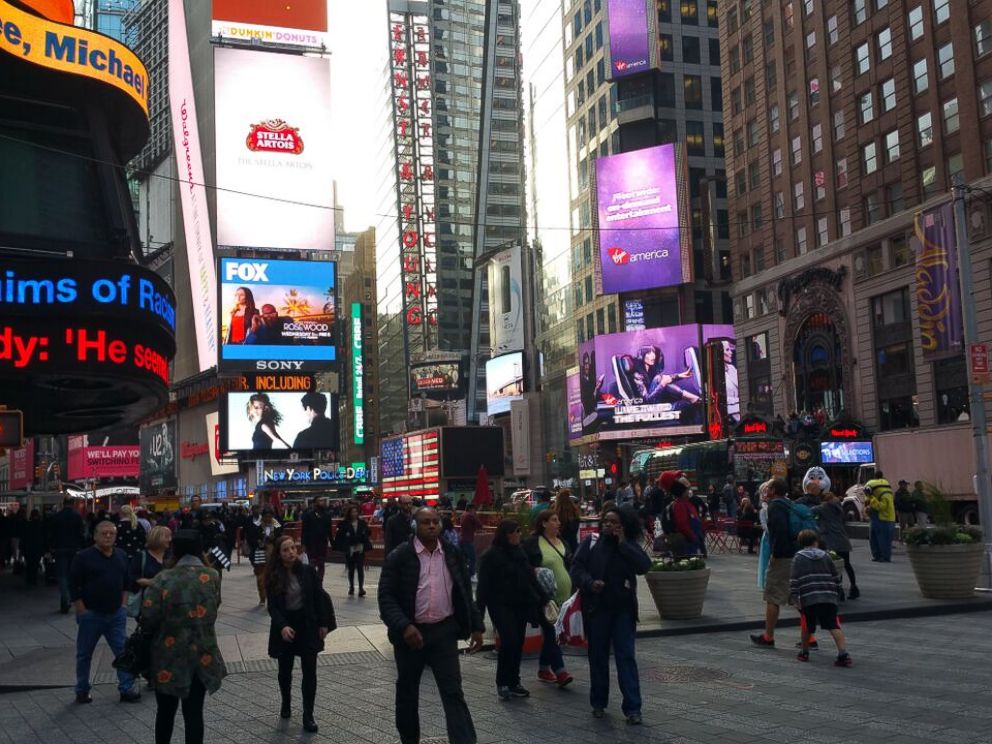 Update 3: I just heard from the people at "GMA" and they gave me a schedule and…uh-oh…I didn't pack an outfit for the show! What was I thinking?!! I was so focused on the bathing suit aspect that I completely forgot about regular clothes. I have got to go find something immediately. New York City has to have tons of clothing options for a girl like me (I hope). It is never easy having to shop for a larger body. Looks like I have to go exploring solo for now!
Update 3: I went to one store looking for cute plus-size clothes and was told only one other location of this chain carried their plus line. I'm headed there next!
Update 4: I have been to three other location of the same chain and NONE of them had any extended sizes. I gave up on that chain. It turns out New York might not have as many options as I thought. How am I going to look on camera?
Update 5: Cliff found me! We are so hungry and still on the lookout for an outfit for me.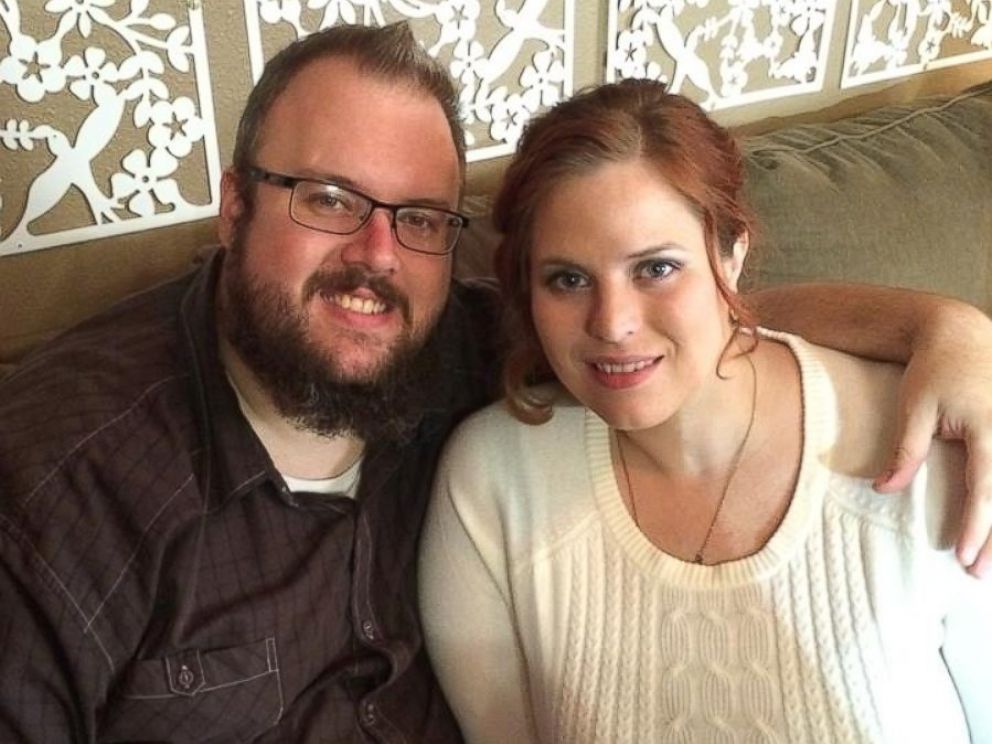 Update 6: Everything has finally calmed down some. We found a nice outfit and I am finally feeling some relief!
Update 7: Ahhhh!! It's the morning of the taping and I am pretty nervous! My cheeks are so hot and red, and I'm so nervous, but I am so excited too. It's rainy and chilly out, but soon I will be in a bathing suit. It's so funny because this would be like our winter weather in Texas. All I can hope for today is that even if I am nervous and scared that if I can help at least one person feel good about their body and not ashamed it'll all be worth it! It's been such a long journey to this point.
A few years ago I was so scared and ashamed to wear tops where my arms would show, shorts or dresses where my legs would show, or anything tight fitting. The social media aspect of the new body positive campaigns have completely changed my life. Of course, I am still scared, but it is so much easier to live! Sometimes I have to remind myself when going out in public that NO, not everyone is staring at you and thinking mean things, but that even if they are it shouldn't reflect on how I feel about myself. I do have worth beyond the way I look! In any case, I believe that most of the issues people have with other people are really a reflection of their own inner problems with themselves, and I can't carry the weight of the world. (pun intended hehe) Well, they are almost ready to shoot, I can't wait to feel the relief and that weight off my shoulders of fear!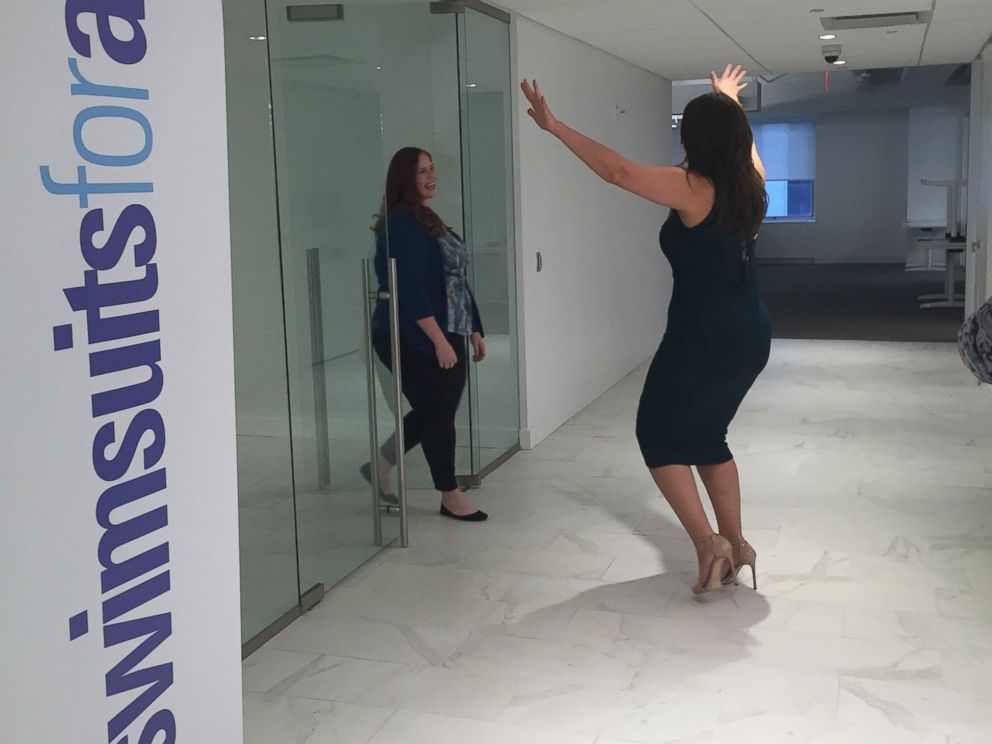 Update 8: I am so excited that the body positive movement has grown so exponentially over the last few years to the point where someone like me could be on "GMA" in a bikini! The shoot was so much fun. Ashley and the crew made me feel so welcomed and comfortable. All the swimsuits were so cute which definitely helped to ease any lingering anxiety.
Every time they handed me another bikini there was a small fear of, what if I look terrible in this? As positive as I am, I have to tell that little voice to shut up sometimes and remind myself that I am going to FEEL great, and by proxy look great too! If I can get through wearing a bikini on national television then there is no reason not to wear anything I want that makes me feel good. I hope that other people will realize this too, and you don't have to be on national TV to do so. You just have to do what makes you happy. There's nothing I won't be able to do after this!
Ashley was so easy to talk to that the interview didn't even feel like an interview, just like talking to an old friend. I think sharing similar interests and having similar life experiences really helped us connect. Talking to her really reminded me that so many people out there, not just women, suffer from body image issues on a daily basis and I sincerely hope this segment can help someone who is struggling to have more confidence in themselves. We have to believe in our whole selves first. Don't miss out on life waiting for things to happen!