(ABC/ WTNH) — A gunman has died after opening fire earlier this morning on members of Congress practicing for a charity baseball game in Alexandria, Virginia, injuring Rep. Steve Scalise, R-Lousiana, a lobbyist, a congressional staffer and two Capitol Police officers.
The suspect died from his injuries sustained in the shooting, President Donald Trump said in his remarks late this morning.
Scalise's office said Scalise was shot in the hip and is undergoing surgery. He is listed in stable condition, his office said.
"Prior to entering surgery, the Whip was in good spirits and spoke to his wife by phone," his office said. "He is grateful for the brave actions of U.S. Capitol Police, first responders, and colleagues. We ask that you keep the Whip and others harmed in this incident in your thoughts and prayers."
Related Content: Connecticut lawmakers react to Virginia shooting
Multiple law enforcement sources identified the suspected shooter as 66-year-old James Hodgkinson of Belleville, Illinois. His wife told ABC News he has been living in Alexandria, Virginia, for the past two months, but had not been working and was expected to return to Illinois in the coming days.
WHO WAS THERE & CONFIRMED INJURED:
Rep. Steve Scalise
Rep. Williams' staffer – name has not been released
An unidentified shooter
Two other unidentified people- possible security detail and/or lobbyists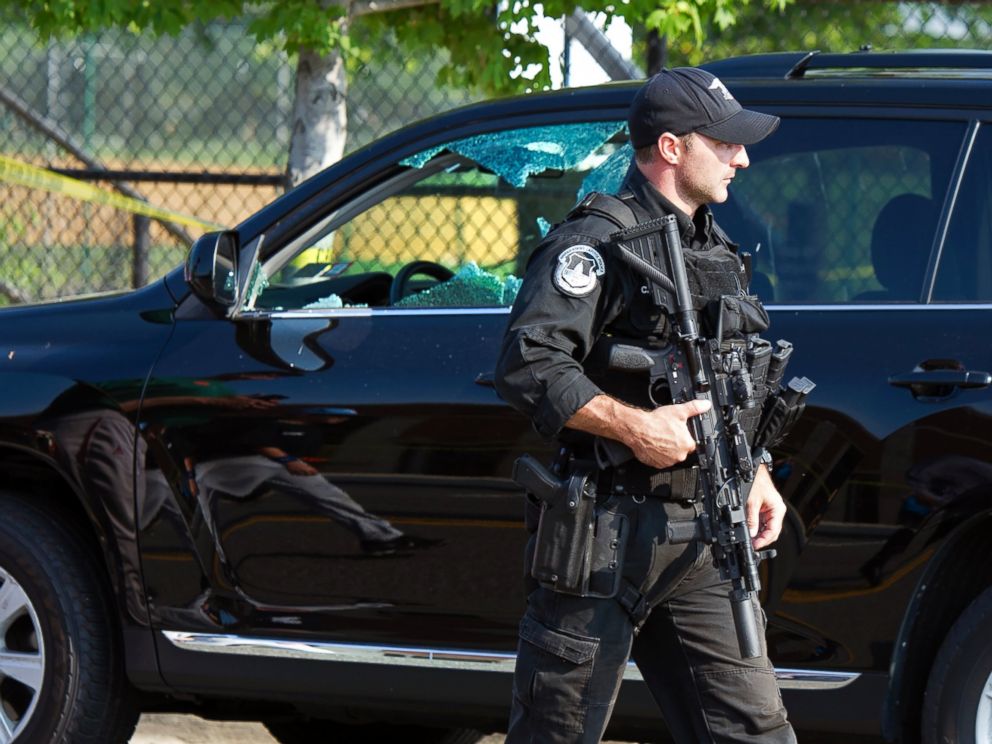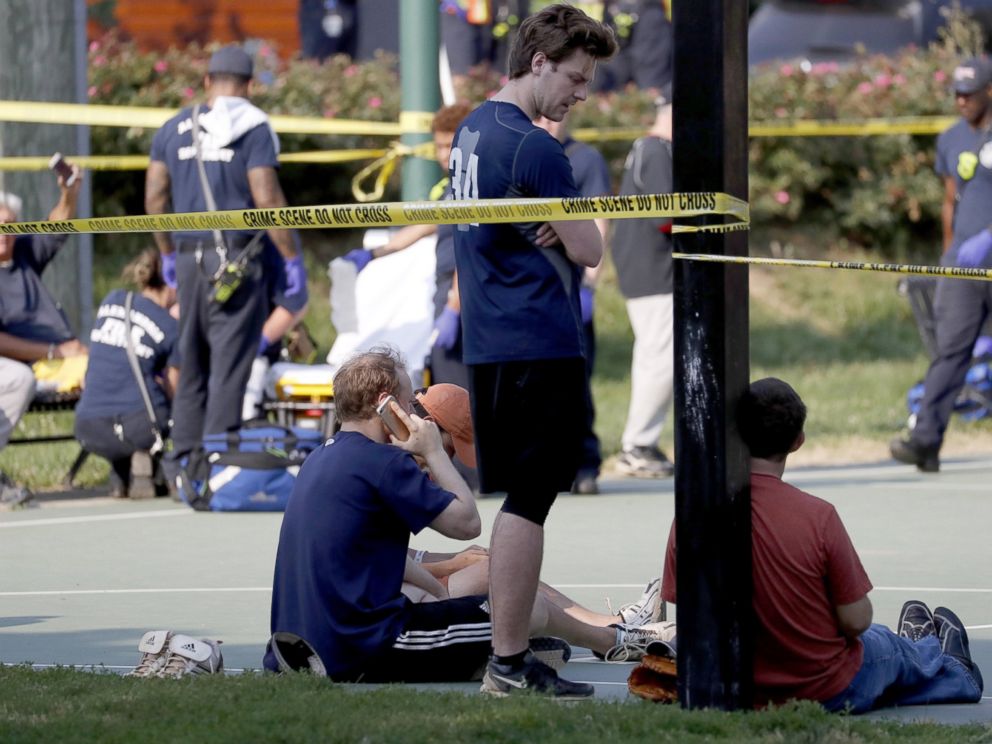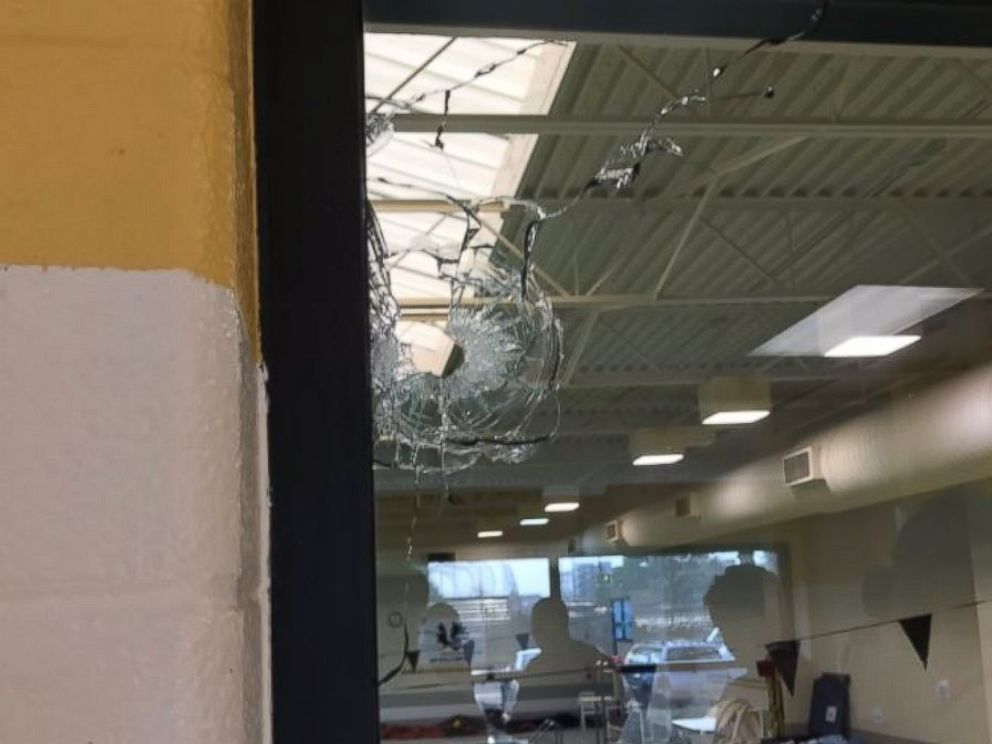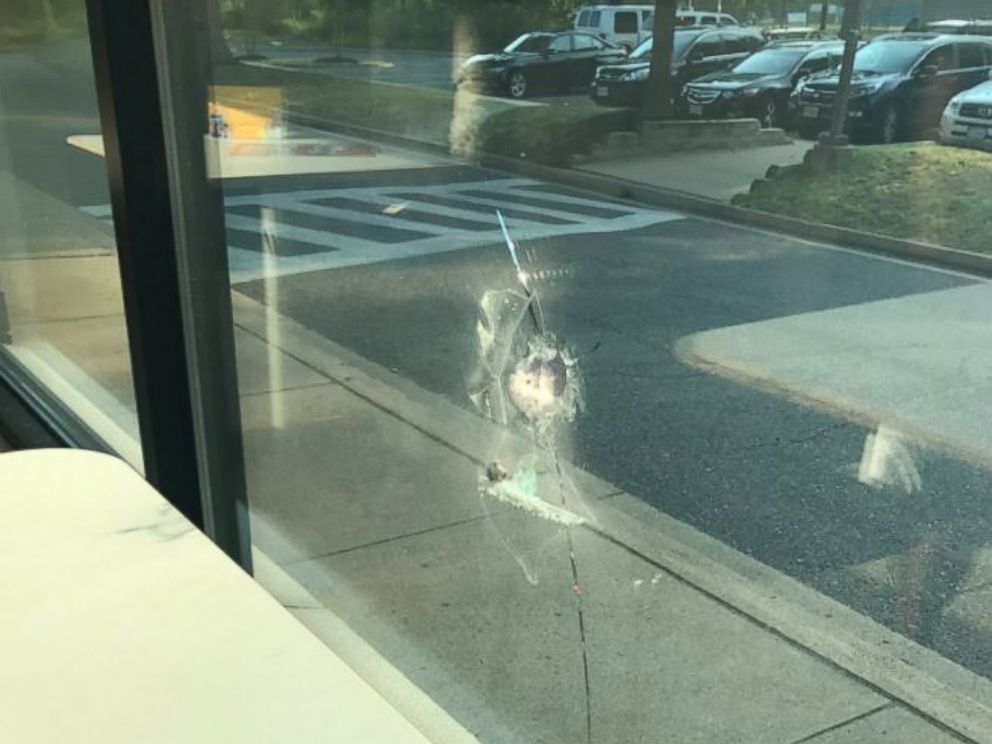 Matt Mika, who works as a lobbyist for Tyson Foods, was also injured. A Tyson Foods spokesperson said in a statement that Mika, director of government relations for its Washington, D.C., office, was hospitalized, adding, "We're awaiting word on his condition. Matt has worked for Tyson Foods for more than six years and we're deeply concerned about him and his family."
Mika previously worked for Rep. Tim Walberg, R-Michigan, and remains "a close friend" of his, according to a statement from Walberg.
"As a former baseball player, he was volunteering at this morning's practice to help the congressional team get ready for the game," Walberg said in a statement. "This is deeply personal and Sue and I are praying for Matt as he receives medical attention."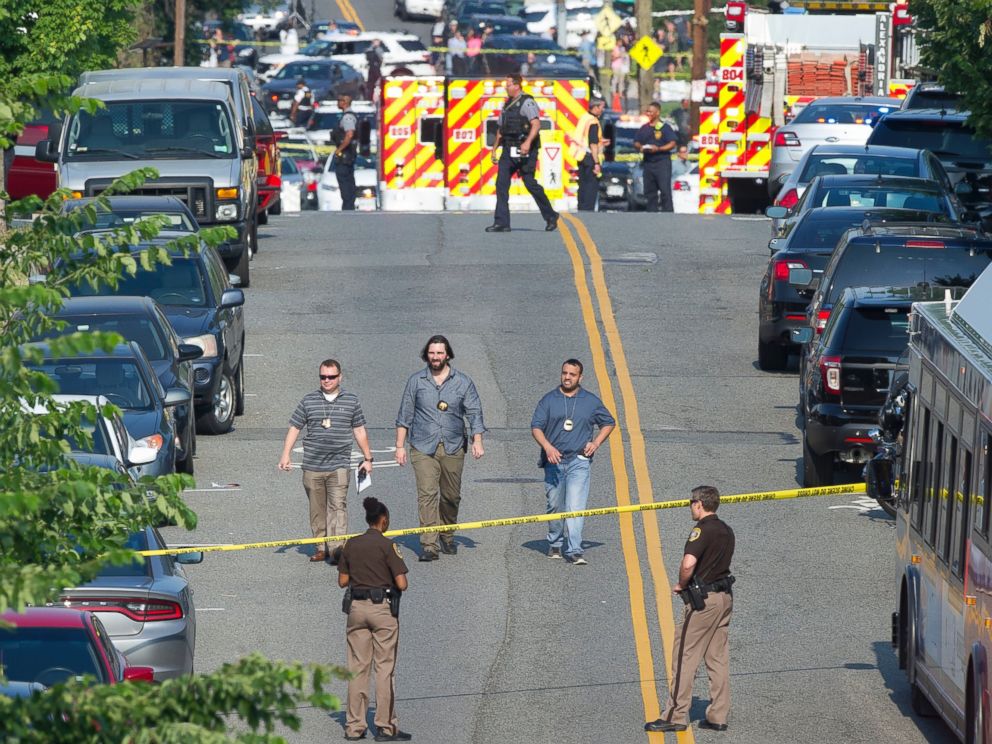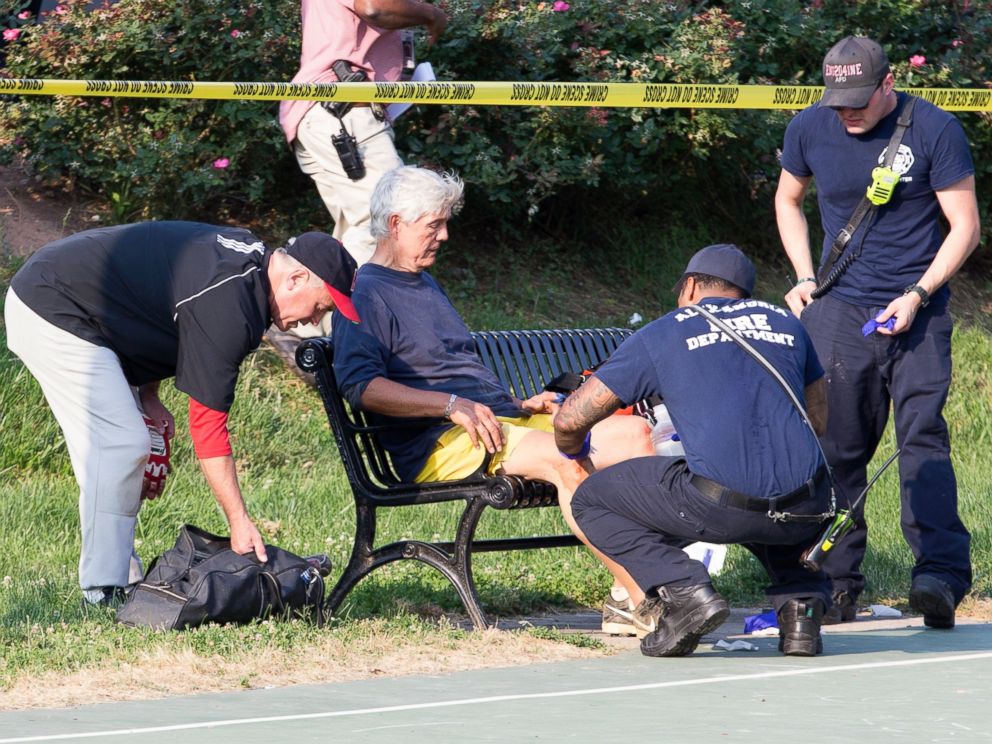 Brooks said he took off his belt and he and another congressman applied a tourniquet to try to slow the bleeding.
Brooks said a security detail returned fire at the active shooter. Brooks estimated that 50 to 100 shots were fired.
At least 21 members of Congress were at this morning's baseball practice, including Scalise and two U.S. senators. Staffers and family members were also there; Rep. Joe Barton, R-Tex., said his two sons were in attendance, including his 11-year-old son. All members of the GOP baseball team have been accounted for.
Barton said in a statement, "The suspect was shooting at members and staff on the field. Officers of the Capitol Police returned fire and ran toward the shooter, risking their lives while saving others. The incident lasted for approximately 10 minutes."
WHO WAS THERE & CONFIRMED OK:
Rep. Joe Barton & his chief of staff
Rep. Steve Pearce
Rep. Steven Palazoo
Rep. Mo Brooks
Sen. Rand Paul – says he was in the batting cage at the time of the shooting and he heard at least 50 to 60 shots fired.
Rep. Matt Gaetz
Rep. Brad Wenstrup – he is an Army reserve doctor and treated Scalise
Rep. Ron DeSantis – he also was live on SPEV
Sen. Jeff Flake
Rep. Chuck Fleishmann
Rep. Bill Johnson – at the field, but left before shooting)
Rep. Roger Williams – he is the coach of the team, his staffer was injured
Rep Mark Walker
Rep Barry Loudermilik
Rep Jeff Duncan
Rep. Trent Kelly
Rep. John Moolenaar
Rep. Gary Palmer
Rep. Mike Bishop
Rep. Jack Bergman
Sen. Rand Paul, R-Kentucky, told ABC News he was in the batting cage when he heard an isolated gunshot.
Then "a burst of gunfire" erupted, Paul said. "At that point, people were dropping. Scalise was shot around second base and he crawled a little bit into the outfield," he explained.
Paul said Scalise's security detail exchanged fire with the active shooter.
"These guys were real heroes and I think without them everybody probably would have been killed," Paul said. "Steve Scalise is in leadership and that's the only reason there was security detail there at all. I'm sad that he was shot but he actually saved everybody's life by being there."'
President Donald Trump said in a statement, "The Vice President and I are aware of the shooting incident in Virginia and are monitoring developments closely. We are deeply saddened by this tragedy. Our thoughts and prayers are with the members of Congress, their staffs, Capitol Police, first responders, and all others affected."
Rep. Steve Scalise of Louisiana, a true friend and patriot, was badly injured but will fully recover. Our thoughts and prayers are with him.

— Donald J. Trump (@realDonaldTrump) June 14, 2017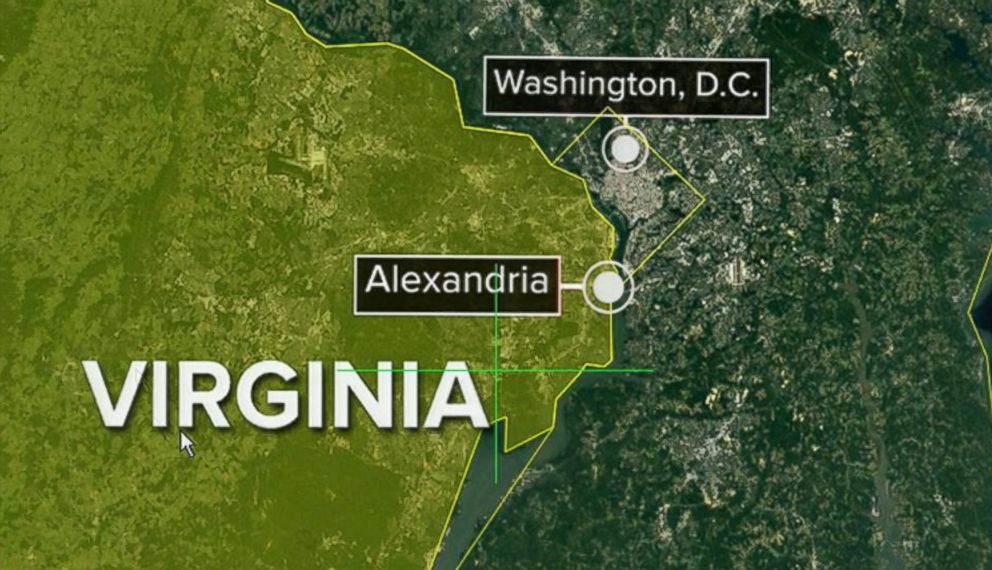 Gabrielle Giffords, the last member of Congress to be shot, surviving a shooting in 2011, tweeted this morning, "My heart is with my former colleagues, their families; staff, and the US Capitol Police- public servants and heroes today and every day."
May we all come together with prayers for the survivors, love for their friends and family, and the courage to make this country its best. pic.twitter.com/2CIOnOh2su

— Gabrielle Giffords (@GabbyGiffords) June 14, 2017
Vice President Mike Pence has canceled a speech that was set for this morning.
Karen & I are praying for @SteveScalise, the Capitol Police, & all hurt for a speedy recovery. Our hearts are with them & their loved ones.

— Vice President Pence (@VP) June 14, 2017
U.S. Senator Richard Blumenthal (D-CT) released the following statement in response to the shooting:
My heart goes out to Congressman Scalise, his staff, and the security officials involved in this horrific shooting. I am especially grateful this morning for the swift action of the Capitol Police, who unhesitatingly disregarded danger to themselves in protecting others. I am hopeful we can put aside politics and support all affected."
I am hopeful we can put aside politics and support all affected.

— Richard Blumenthal (@SenBlumenthal) June 14, 2017
Senator Chris Murphy also reacted to the shooting by tweeting "oh my God."
We are all pulling for you @SteveScalise. My heart is with you, the Capitol Police, and everyone who was on the scene.

— Chris Murphy (@ChrisMurphyCT) June 14, 2017
Connecticut Rep. Elizabeth Esty also tweeted about the shooting.
Everyone on my staff is accounted for. They were not at the field. We are praying for our GOP friends & colleagues and awaiting updates.

— Elizabeth Esty (@RepEsty) June 14, 2017
Congressman Jim Himes tweeted as soon as he heard the news.
Horrified by the attack on the Congressional family in VA this morning. Praying for those injured and grateful for those who keep us safe.

— Jim Himes (@jahimes) June 14, 2017
Congresswoman Rosa DeLauro tweeted that she is keeping everyone involved in her thoughts and prayers.
Keeping everyone at this morning's Congressional baseball practice and their families in my prayers.

— Rosa DeLauro (@rosadelauro) June 14, 2017