(ABC News) — Take note, Arie Luyendyk Jr.: You are not welcome in Minnesota.
After all, "The Bachelor" star humiliated a native of the state in front of millions of the ABC show's viewers.
On Monday night, Bachelor Nation watched as Luyendyk proposed to Minnesota native Rebecca Kufrin to close out his season of "The Bachelor," only to regret the decision and decide he wanted to be with runner-up Lauren Burnham, dumping Kufrin on camera.
And then on Tuesday, Kufrin faced Luyendyk, but had to re-live the past breakup as it aired for the audience, and then watch as her ex proposed to Burnham live on the show.
Well, this didn't sit well with state Rep. Drew Christensen, a Republican, who tweeted photos of the bill's draft, which states that residents of the Land of 10,000 Lakes have the right "to live free" of the state's public enemy # 1.
"The state of Minnesota hereby adopts a policy of zero tolerance of Arie Luyendyk, Jr. from season 22 of the 'The Bachelor,'" the bill reads. "It is state policy that every person in the state has a right to live free from the presence of Arie Luyendyk, Jr. in the state."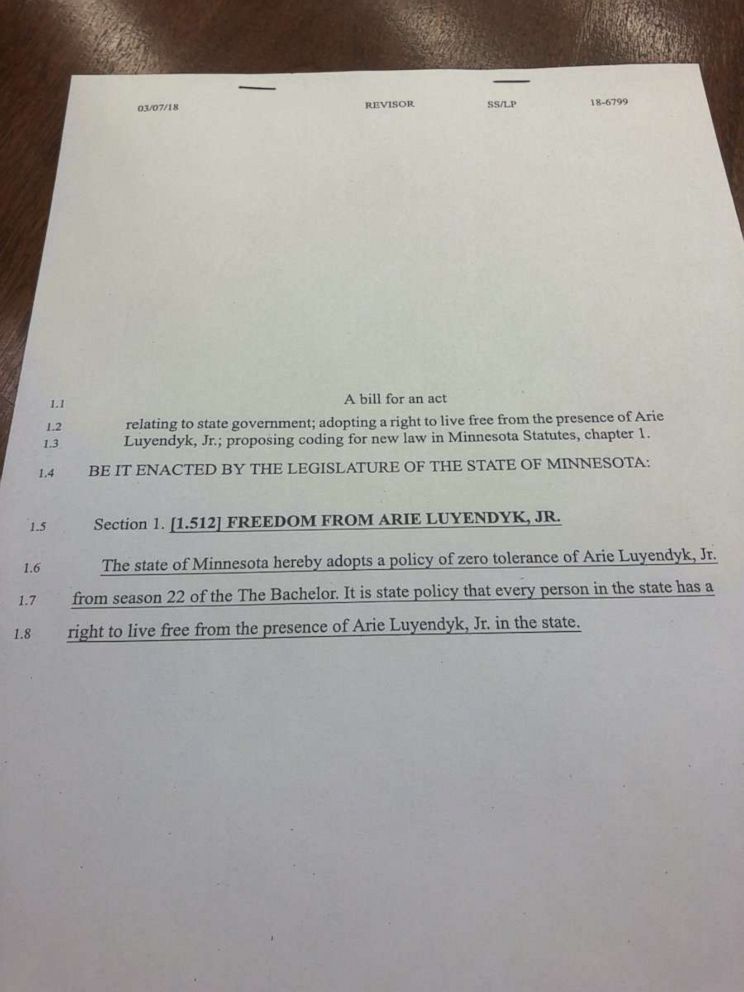 Twitter feedback matters… 10K—you're invited, @thebkoof! #TheBachelor #mnleg pic.twitter.com/MdcoEHwEis

— Rep. Drew Christensen (@RepChristensen) March 8, 2018
The bill, though, isn't the law of the land, though — but it's the thought that counts.